Previewing the 2012 Twins | Interview Series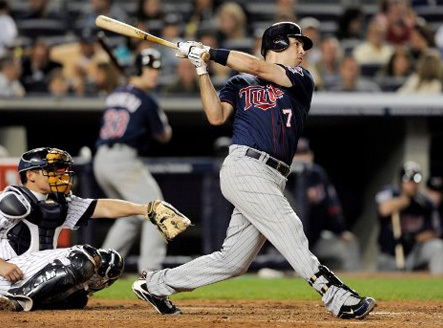 Over the course of the next month or two, we will be previewing the Yankees' competition in the American League. To do this, I will interview one blog for each team in the league.

We recently took a look at our first AL Central team, the Tigers. Now, we'll shift our focus to the Minnesota Twins. I was able to interview Eric Pleiss of Puckett's Pond.
And here we go…
1. The Twins have consistently been a pretty successful team. However, in 2011 they took quite a step back, finishing in last place with a 63-99 record. What do you think caused the Twins to struggle so much in 2011? In the midst of a poor season, were there any bright spots that may fuel some optimism heading into 2012?
The 2011 season was derailed not just by injuries, but injuries to the Twins' key players. Joe Mauer, Justin Morneau, Denard Span, Jason Kubel, Joe Nathan, Alexi Casilla, Denard Span and Tsuyoshi Nishioka all missed significant time while on the Disabled List (7 of their opening day starting 9, and their franchise closer). While Nishoka's absence from the line up may have not been detrimental to the success of the team, the Twins were still without their opening day second basemen and lacked any sort of contingency plan for the middle infield (see: Trevor Plouffe). While injuries are certainly not the entire story of 2011, the lack of consistency in the Twins lineup certainly robbed them of any opportunity to settle into a routine, likely affecting the performance of the remaining, healthy regulars like Danny Valencia and Michael Cuddyer.
While 2011 was pretty much a lost year for the Twins, Ben Revere received extended Major League playing time and provided spectacular center field defense while Denard Span was recuperating on the DL. Not only was Revere's outfield defense amazing, but at times watching his joy and excitement for playing the game of baseball was one of main reasons to tune into Twins games. Because the Twins were so injury prone, Twins fans were able to see a glimpse into the future as several Minor League Players were given ample playing time down the stretch, including Joe Benson, Rene Tosoni, Brian Dinkelman (who is quickly becoming a fan favorite, even though he's unlikely to make it back to the MLB in 2012), and the flame throwing reliever, Lester Oliveros (obtained in waiver wire deal from the Detroit Tigers for Delmon Young).
2. It seems as if the two major stars of the Twins, Joe Mauer and Justin Morneau are always injured. How have their constant injuries taken a toll on the team, especially considering the pricey contracts they have?
Recent Twins chatter indicates that Joe Mauer is as healthy as he has been since 2009 after an offseason void of surgeries, and he should bounce back nicely in 2012, even if the Twins move him to 1B every now and then to give his knees a rest. The more troubling injury is the concussion that Justin Morneau sustained in 2010 that not only kept him out of the 2nd half of 2010, but also portions of 2011, and may have been an underlying factor in a couple of his nagging injuries from this past year, especially after his concussion symptoms flared up after Morneau made a dive for a ball at first base late last summer. Defensively the Twins have several players that could fill in at first if Morneau is unable to go, but none of them have even remotely comparable skills as hitters. Moving Mauer to 1B to compensate opens up a similar hole behind the plate, and the Twins are unlikely to move Mauer unless he sustains another injury of his own.
Definitely a lot of 2012 rides on the shoulders of the M & M boys, because if they're not healthy, then the team will lose not only two of its best hitters, but also two of their most veteran players.
3. This offseason, the Twins lost two important components to their offense – Jason Kubel and Michael Cuddyer, though they were able to re-sign closer Matt Capps. They also signed Josh Willingham to make up for some of the lost production. How do you feel about the Twins' offseason to this point? Has the front office done an adequate job to prepare for 2012?
In addition to Kubel and Cuddyer, the Twins will also be without the services of the most prolific closer in franchise history, Joe Nathan. Matt Capps can hopefully bounce back and perform at 2010 levels, but he certainly has an uphill battle if he hopes to replace Nathan, both on the mound and in the clubhouse.
Josh Willingham and Ryan Doumit will both help Minnesota replace Kubel and Cuddyer, and between the two of them they can provide some of the power and extra base hitting lost to free agency. The Twins will likely start the 2012 season with Ben Revere in left field, Denard Span in center, Josh Willingham in Right Field and Doumit will most likely replace Kubel as the DH. Willingham will have to acclimate a switch from left field, but Cuddyer was never a great fielder, so as long as he hits well he will be an adequate fill in. Doumit is certainly not the hitter that Kubel is, but his defensive versatility gives the Twins increased flexibility, which was clearly important to the front office coming off an injury plagued season.
The Twins' signing of the aging Jamey Carroll to be their everyday short stop speaks as much to their desire to add versatility as it does to their lack of Major League ready middle infield talent in the organization. Carroll is likely miscast as a short stop, but he has played significant injuries there in the past, and has plenty of experience at second and third base as well. If Alexi Casilla ever turns into the player the Twins have been hoping he'd be for the last for years, then they could swap Casilla over to short and put Carroll over at his more natural position, second base.
While Minnesota's offseason has certainly addressed many of their needs for position players, the Twins' only real pitching acquisition is Jason Marquis, who comes in to give the Twins stability and eat up innings as a starter. The Twins bullpen is essentially Brian Duensing, Glen Perkins, and Matt Capps, plus Rule 5 draftee Terry Doyle, long man/Emergency starter Anthony Swarzak, and their most recent acquisition, the oft injured, flame throwing, Joel Zumaya.
Given the Twins' reduced payroll in 2012 ($100 million, down from nearly $115 million a year ago) the front office did a nice job filling the holes of free agency. There are rumors out there that the Twins may still be looking to add another starting pitcher, which would certainly push the Twins over their projected 2012 budget, and leave someone like Nick Blackburn on the outside looking in.
4. Building off of the previous question, what is the general confidence level in the team moving forward?
I think Twins fans are cautiously optimistic heading into 2012. After nearly a decade long run competing for the AL Central crown, last year seems like an anomaly and many fans still think the Twins have an outside chance to contend again in 2012. If the team can stay healthy and catch all the right breaks that is not too far-fetched, but this is basically the same team that lost 99 games a season ago, with the same rotation, the same question marks in the bullpen, and with health concerns for two of their biggest stars.
5. How do you feel about the current state of the Twins' prospects, and minor-league system? Are there any prospects that you think could have an impact on the 2012 team?
The Twins Minor League cupboard is not bare, but most of their high end talent is still a couple of years away from being ready to put on a Minnesota Twins uniform. Having said that, RHP Liam Hendriks will be waiting in the wings in Rochester and Brian Dozier may very well be the Twins' short stop of the future, but neither player has spent a full year at Triple-A, and would likely only come up before September because of a serious Twins injury or because the team has fallen completely out of contention. Chris Parmelee is a first basemen that played well in 2011 with the Twins late in the season, but he too could benefit from additional AAA seasoning, and would likely only be called up if Justin Morneau was shut down for the season.
6. Lastly, how do you project the team will do in 2012?
The Detroit Tigers, despite the recent injury to Victor Martinez, are the front runners for the 2012 AL Central crown. After the Tigers, the rest of the AL Central is pretty wide open. The 2011 2nd place Cleveland Indians have a lot of questions to answer after they faded down the stretch a year ago, and they will need Ubaldo Jimenez to return to dominance after gutting their farm system to acquire him. The Kansas City Royals are the darlings of the Central, but they lack quality starting pitching, and are likely a year or two away from competing for a championship in the AL Central. The Chicago White Sox are an interesting team right now, they've been both rebuilding and reloading their roster during this off season, and will need a string of good luck in 2012 to finish higher than 4th place in the division. The Twins, with most of their 2011 troubles behind them, are likely to rebound and be a competitive team in 2012. I do not expect the Twins to win any more than 85 games (22 more than they won a year ago), and that leaves them short of the 90ish wins that the Tigers are likely to collect. 85 wins, while not great, is a world away from the 63 wins they had a year ago, and sets them up for a run at the Division Title in 2013 when a couple of their Triple-A pieces could be ready for the show.